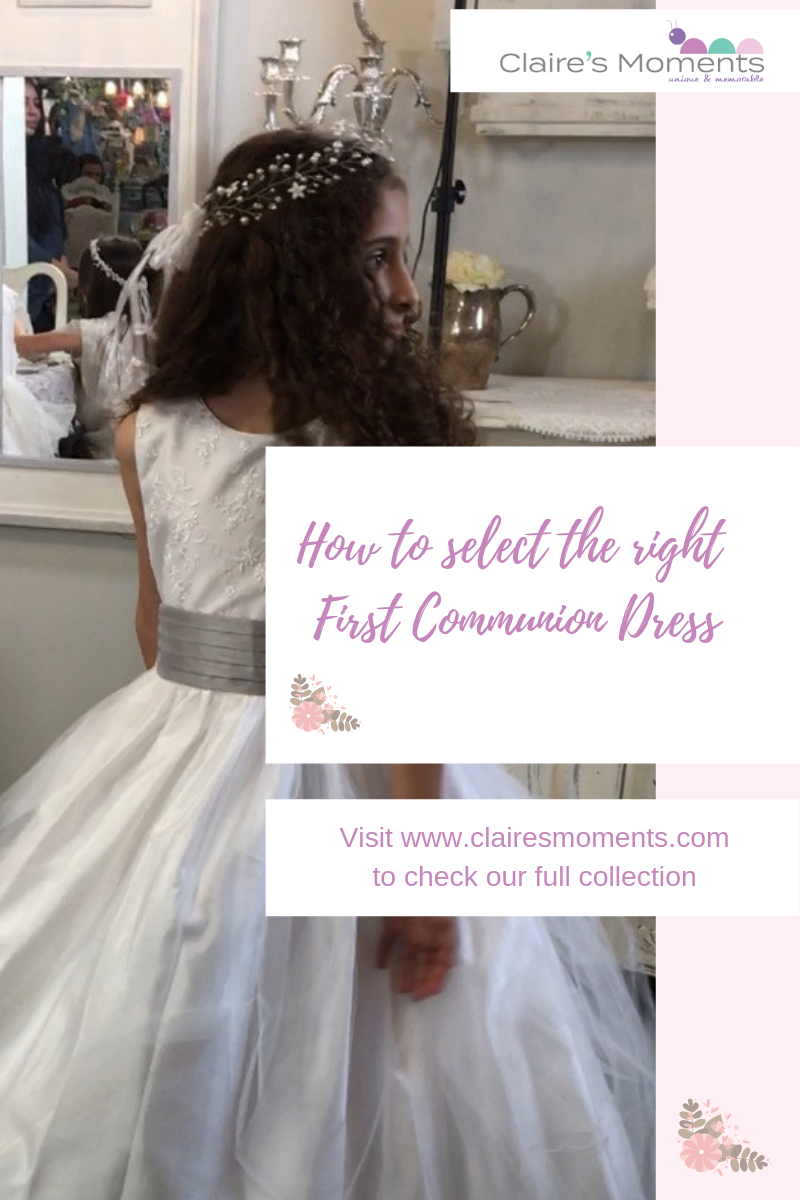 How to choose the right First Communion Dress
Time flies and this is the year when your daughter or son will have his or her First Holy Communion; You have been working and putting a lot of time into raising your little one in the Catholic faith. You brought them to classes to teach them everything about the true importance of this Holy day, and now they're taking their next big step, preparing for the celebration. 
First Communion day usually include large family gatherings and parties to celebrate the event. One important aspect of this celebration includes wearing special clothing and accessories (first communion dress, halo, veil, etc). 
Moms are the ones always taking care about all the details like invitations, where to celebrate, decoration, favors, food, etc, and the most important part "the dress". 
Finding the perfect First Communion Dress is one of the most challenging decisions, like where to buy it , when to buy it, color, style, quality, cost, etc., for you and your daughter. It will take time because you want to make sure it is the right one for that unforgettable day! 
Where to buy it: 
You can spend hours and days in boutiques and department stores trying to find your percent dress but some of the department stores and boutiques carry very limited styles and sizes. 
The second option are online stores. Now it is easier to research online to find thousands of First Communion dresses from different retailers. It can be overwhelming, sometimes too many choices.  One important point to consider is where the dress in coming from, because in a majority of the online stores, the dresses come from China, and sizes can be a little tricky, they run a little bit smaller than American sizes. 
When to buy the dress. 
First communion season usually runs from first week of May until third week of June. After Christmas and New Year are gone, January is the best time to begin looking for First Communion attire and if you find it, buy it. I hear some moms question what if she will grow and it won't fit, normally it won't happen. If you buy it in January for the communion season, it definitely will fit. The later you wait, there is less selection, because providers won't restock their inventory until next year with new collection. My recommendation is don't wait until April to buy it. 
Quality: 
Quality is important if you want to buy a dress that will be passed to other generations, like your other daughters or even when you have granddaughters, you want a dress where the fabric will be good for 50 years or more. 
If you are just looking for a dress for a day, quality might be not that important, you can find more options where prices range between $30.00 to $55.00 dlls. 
Now it is a new option on the market, "Rent ". Rent a dress for First communion is available in some online stores, like Claire's Moments.  This is a great idea when you are looking for a nice dress but your intentions aren't keep it for ever. 
Claire's Moments is one of the first online store to offer beautiful dresses for rent for First Communion with great quality for 4 or 7 days. You can visit our website www.clairesmoments.com to read more about "rental dresses". 
Here are some examples for Rental First Communion's dresses 
Colors: 
Traditionally first communion dresses used to be white, but these days it is acceptable to have  Ivory or Pale Pink. Some churches still recommends only White, but it isn't very common anymore. 
European style is adding color to their dresses attaching belts, flowers to give you little bit or unique style.  
What is  important is that your girl looks elegant, confortable and if you can try to keep it modest and don't make it too colorful. 
Style: 
These days there are a lot of different styles for First Communion dresses. Most important points to consider are: 
Length: short, long or under the knee.

 

Sleeves: Long, sleeveless, short or 3/4sleeves (under elbow).

 

Color: white, ivory or pale pink.

 
Claire's Moments has all kind of styles you have in mind.
Cost: 
Cost will determine where to buy it or quality to buy. Also If you want to keep the dress to pass down to other generations or just for one the time. 
I would love to hear your comments about this post, if it helps you, etc. 
Thank you, 
Fabiola Drerup